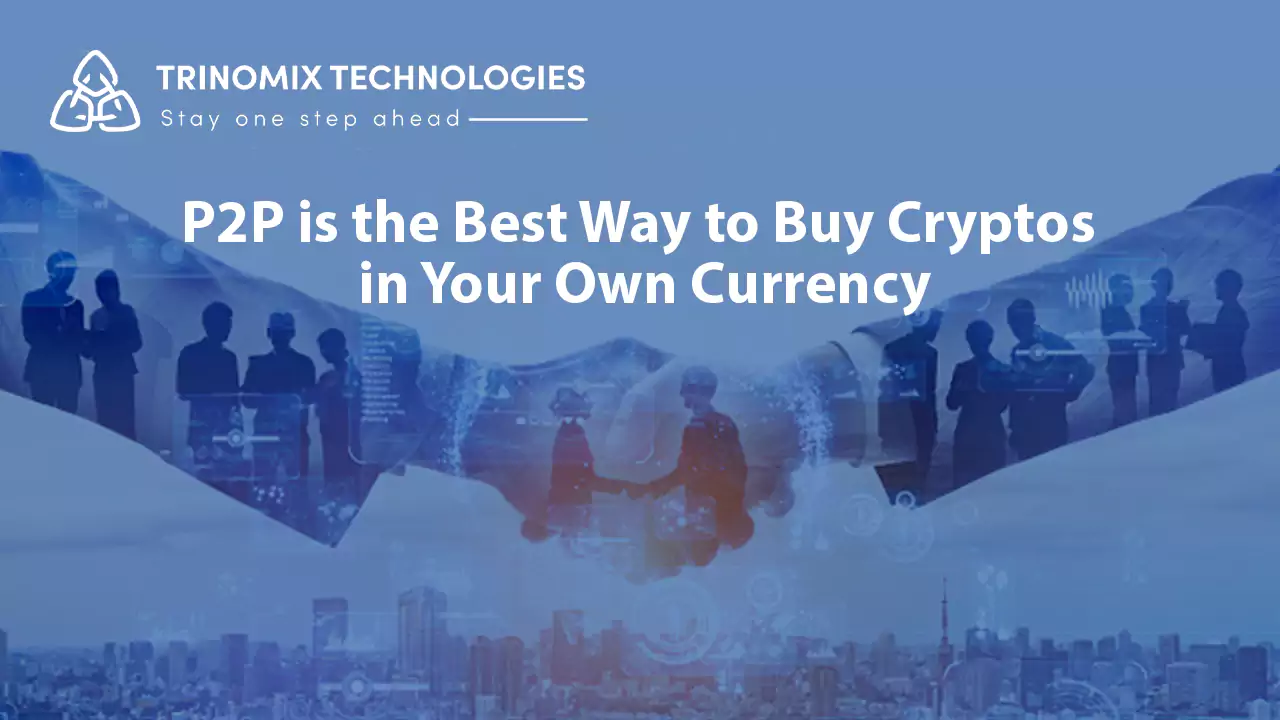 What is the reason why p2p is the best way to buy cryptos in your own currency
Aug 5, 2022
To trade a cryptocurrency you need a valid account in an exchange platform with a safe storage facility. It is also recommended to have a personal wallet that does not belong to that exchange platform. In addition, an investor has additional options to trade cryptocurrency like specialized ATM and Peer-to-Peer (P2P) exchanges.
Likewise, investors can buy cryptocurrencies with their fiat money which means their own currency in multiple ways. They are allowed to use their Paypal account, credit card, debit card, etc.
But why do the experts say P2P is the best way to buy cryptocurrencies despite specialized ATMs allowing users to buy cryptocurrencies online? Here is the complete explanation
What is a P2P exchange and how does it work?
Starting from the beginning is the proper way to know unknown things. In that manner, let's know about P2P exchanges from their definition. The term P2P trading referred to "Peer-to-Peer trading" which is one of the methods of trading cryptocurrencies. As the name suggests, it allows the investors and traders to sell or buy cryptocurrency directly from another investor or trader without the intermediation of a centralized authority or platform.
This kind of trading enables the traders to control and check the details of buyers and sellers. A buyer can see who is selling the cryptocurrency and the seller can check who is buying the digital currency. Along with this, the pricing, and settlement time are open to all. However, as there is no intermediation of any third party, the P2P transactions have some risk possibilities.
For example, after the successful transaction of fiat money, the seller may send the request of canceling the transaction, mistakenly release cryptocurrency before receiving the payment, and other common errors and risks that are accompanied by P2P trading. When the investors choose the best crypto exchange platform that provides highly advanced escrow service, these kinds of common obstacles can be eliminated.
Using highly secured devices with proper internet can help the trades to ensure high security while trading and avoid unexpected errors. At the same time, they are advised to store the recovery seed offline on their device. It is nothing but a sequence of letters in a specific order that ensures the recovery of a wallet.
What makes P2P a recommended way to trade a cryptocurrency even though it is accompanied by some common risks? It may be the question which occupies your mind that may distract you from reading this blog. So, let's find the answer for it now.
Know The Difference Between Traditional Exchange and P2P Marketplace
Despite there being many ways to buy cryptocurrencies in centralized exchanges, Specific crypto ATMs, decentralized exchanges, and others, the P2P has some special features that make it a feasible way for many traders. Let's know how it is the best way by comparing it with other traditional methods of buying a cryptocurrency.
Centralized exchanges are one of the versions of cryptocurrencies in which there is an authority to control the trading process which means, all the data related to the funds, and transactions were stored in a centralized server. This kind of trading allows the traders to do split trading, and bulk selling of cryptocurrency, with the features of multiple wallet support, and trade matching systems. Many traders choose this kind of trading method for liquidity, stability, and user-friendly process.
On another hand, decentralized exchanges have higher security than centralized exchanges. Usually, it has been denoted as DEX in which the Smart contract is the base element of this method. In common crypto to crypto exchanges take place through this method as it doesn't allow the traders to exchange fiat money for crypto. The features like atomic swap, multiple wallet support, high secured data storage, and anonymous trading make the investors choose this kind of trading. Although it has many positive aspects, there are also some limitations like low liquidity, inability to restore data, and issues in scalability with decentralized exchanges.
But is there any possibility to take advantage of CEX and DEX?
Here, the P2P comes. These Peer-to-Peer exchanges can provide the best shades of the decentralized concept and enables the end-to-end exchange process. In this method, Escrows is the crucial element that is nothing but a reliable trading process that is taken by a third party like exchange platforms to ensure security and fair trading practices.
It also allows the traders to exchange fiat money for cryptocurrency and crypto to crypto exchanges. It weeds out the difficulties in the centralized and decentralized exchanges. It provides secured trading, fast transaction, anonymous trading, OTC trading, and other trending features.
Advantages of Using a P2P Exchange Platform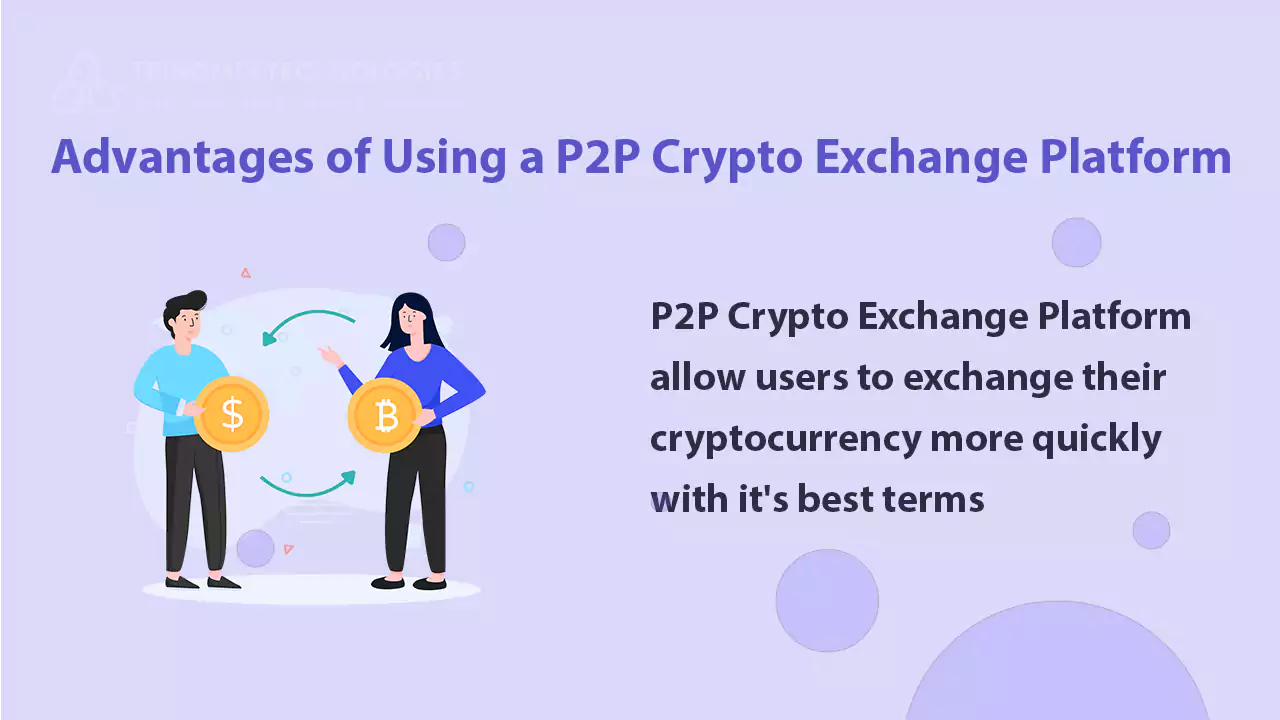 In recent days, many traders choose P2P exchange platforms to buy or sell their cryptocurrencies as it provides many advantages. Knowing the advantages of a P2P platform can help the traders to choose the best P2P platform to do their trades and the entrepreneurs of the crypto market to develop an eminent P2P exchange platform.
Low-cost Transaction Fees - As P2P exchanges connect buyers and sellers directly, the overhead costs are minimal. Many exchange platforms provide services at zero trading fees with a small number of transaction fees. However, it is comparatively lower than specialized ATM fees.
Flexible Payment Methods - In the P2P exchange, the sellers are free to choose the payment process through which they'll be paid. When a Peer-to-Peer exchange platform is providing numerous payment methods like bank transfer, cash, PayPal, M-Pesa, and others, the possibility for traders to choose that particular exchange platform is high.
Trade at Preferred Prices - Usually, P2P exchange platforms as empowering users to trade their cryptocurrencies at their preferred price. One step forward, some of the P2P exchange platforms permit the users to create trade advertisements to set and sell their currencies at special prices. It delivers mutual benefits.
Privacy - Peer-to-Peer exchanges do not collect information about buyers and sellers. So anyone can easily buy and sell cryptocurrencies like Bitcoin. In advance, the cash-on P2P trading facility is introduced by some P2P platforms through which the traders need not enter their bank account or online wallet data. to make a crypto-fiat transaction.
Easy Access - Many P2P platforms ease the process of finding, searching, and buying cryptocurrency with multiple filter tools to help buyers to sort Ads by their preferences or use the filter to configure search results,which eases the trading process within the region or with the same currency.
Maximizing Safety with Escrow - A P2P exchange platform can facilitate top-notch security and assurance with escrow protection. That can prevent scams against buyers and sellers by assuring protection in each transaction. It is the credibility-building factor for such platforms.
So, if you are a trader, then ensure your Peer-to-Peer exchange platform provides you with these benefits. In case you are an entrepreneur in the crypto world, then try to build a P2P exchange platform that can deliver these benefits to your users to reach more traders. To do that you need to include highly advanced features. Let's glance at the features of a Peer-to-Peer exchange platform.
How to Build a Robust Peer-to-Peer Exchange?
Choosing the best P2P exchange platform development company is crucial if you decide to earn money through a P2P exchange. By only doing that, your Peer-to-Peer exchange platform can include all demanded features like the following.
● Secured Escrow Wallet - That ensures high security and assures a fair trading process.
● Multi-Currency Support System - It allows traders to buy or sell cryptos in their currencies.
● Multi-Language Support - Help traders to overcome the language barriers by speaking their language.
● Automated KYC & AML Verification - It can increase the adaptability of your P2P exchange.
● Multi-Factor Authentication - It is also another factor that reduces risks and unauthorized transactions.
● Featured Advertisements - It helps the sellers to sell more currencies.
● Anti-Distributed Denial of Services - It protects the P2P platform from volume-based attacks.
● Cross-Site Request Forgery - It strengthens your platform which makes it impossible for cyber attacks.
● Private Messaging Support - This feature connects buyers and sellers to do a fair trade.
● Payment Gateway Integration - Seamless transaction process can be assured with this facility.
● User-Friendly Admin Panel - All the processes that take the process in your online P2P exchange platform are under your control with this panel.
So, establish a robust Peer-to-Peer exchange platform with these essential and advanced features. Approaching CryptoApe can help you in the p2p crypto exchange development process. As it has highly experienced IT experts you can rely on it for an operative Peer-to-Peer exchange platform.
Conclusion
We hope this article helps you to find informative keynotes on the Peer-to-peer (P2P) marketplace and how it differs from other traditional crypto trade methods. Simply, such a platform allows the traders to swap cryptocurrencies for a preferred currency and vice-versa. A seamless, secured, and fast trading process can help the traders experience a smooth transaction.
Such trading experiences are fundamental factors to define the success rate of a P2P exchange platform. So, if you are an entrepreneur in the crypto world and looking for the best P2P exchange business idea to break new ground, then you should choose the top-rated P2P exchange development company like CryptoApe. This can help you to build a fully functional P2P exchange platform to engage more traders for getting a maximum revenue.